Removing rust from car parts can be a time consuming and sometimes difficult task. That is, if you are sanding the parts by hand or sand blasting. The job is even more difficult when you have to deal with pitting because you are forced to blast or use wire wheels. Well it doesn't need to be. I'd like to introduce you to Evapo-Rust. To date this is the only chemical product I have personally tried and it works great. Honestly, I can't believe I went so long without a product like this in my shop. It's also biodegradable, acid free, and safe on the skin. It doesn't remove paint and it's safe on plastics, vinyl, rubber, etc. What more could you want out of a rust remover product?
Rust Removal Instructions
Evapo-Rust is simple to use. Here's the instructions for smaller parts that can be fully submerged. There's also instructions for larger parts, but I haven't tried them out.
Find a container that is large enough for your parts.
Place your parts in the container.
Fill up the container with Evapo-Rust so that the parts are fully submerged.
Let the parts sit for up to 12 hours.
Remove the parts from the container and rinse with water.
Dry the parts off.
Paint the parts or spray them with a product like Fluid Film to prevent rust.
Return the Evapo-Rust back to the container to be reused at a later date.
I needed to clean up the driver side mirror support bracket in order to finish replacing the door skin. That's when I decided to try this out. I decided to throw a bunch of random parts in the bucket with it to see how Evapo-Rust performed.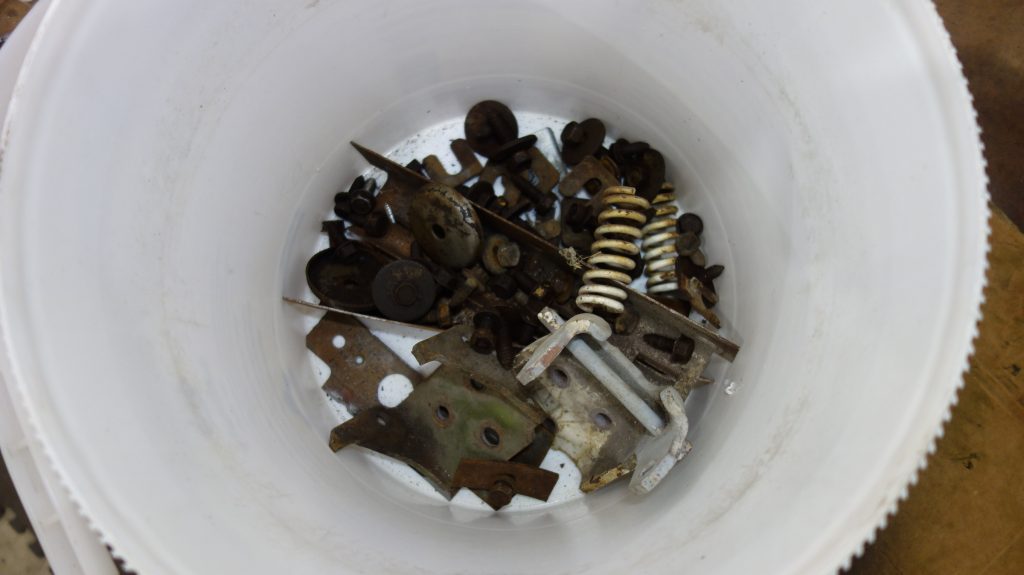 I let the parts sit in the Evapo-Rust for 24 hours because that's the soonest I could get back to them.
I think the picture says it all. The product worked as advertised and it's now my first choice for rust removal for small parts. If you haven't tried Evapo-Rust yet, I highly recommend it. Share with us in the comments your experiences with Evapo-Rust or similar products. Which product is your favorite?